After a year of impressive performance, analysts at Kings Entertainment released their March 2022 highlights. The company's breakthrough technology has generated an exciting future for the gaming industry in the coming years. Their offer is only one of many that will be available to players on mobile and PC platforms around the world by 2022.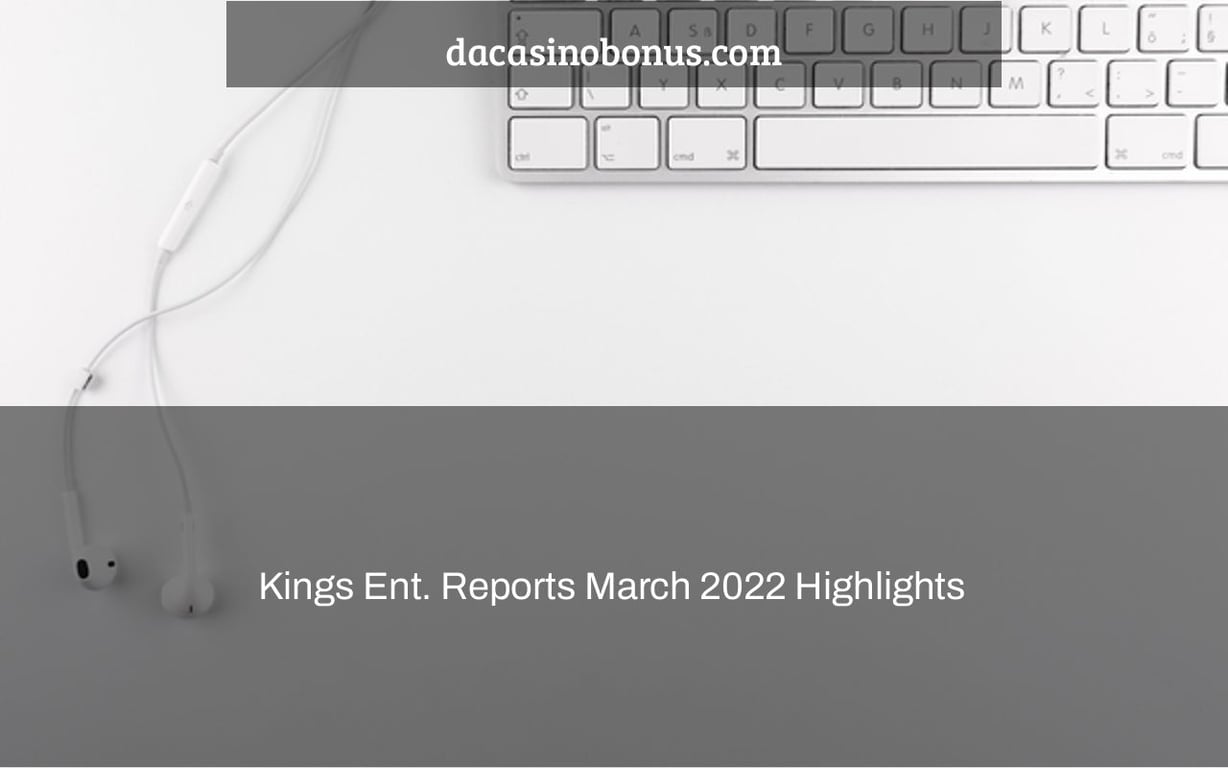 Kings Entertainment Group, located in Vancouver, released their highlights and player activities for March 2022 this week. The parent business of LottoKings and WinTrillions, which provides lottery, casino, and sportsbook services, had a great month in which it experienced a big rise in players as well as sustained casino growth from its operations.
The business is a global internet service provider for lottery, casino, and sportsbook gaming businesses. The company's subsidiaries LottoKings and WinTrillions provide top-tier lottery services as well as a premium selection of online casino and sportsbook verticals. Since their beginning, both of the daughter companies have attracted and engaged millions of consumers.
March was a good month for us.
In March, Kings Entertainment recorded a fantastic overall performance, as opposed to the more unpredictable sports and casino businesses, the lottery industry is very stable. This is owing to the fact that the lottery industry's revenue is based on jackpot amounts and payouts. Last month, the number of active gamers climbed by 15% to 5,200, according to the business.
Its two main brands, Lotto Kings and WinTrillions, have also attracted a large number of new users, with their player bases increasing by 72 percent since February 2022. Steve Budin, the company's CEO, said that the provider is thrilled to be able to continue growing its client base. He said that the key to any gambling company's success is to create, increase, and keep the number of active players.
Mr. Budin has also said that the company's brands' ability to attract and maintain new consumers without the incentive of enormous prizes is a tribute to their popularity and strength. He also said that the firm would continue to concentrate on organic development and CRM techniques to establish its brand, and that paid marketing initiatives will be launched whenever jackpot levels justify the cost.
The New Market in Ontario
Currently, Kings Entertainment is not permitted to operate in British Columbia, since the British Columbia Lottery Corporation provides the province's sole authorized online gaming services. The scenario is much different in Ontario, which just established its regulated online sports betting and casino sector for private operators. The province is the first in Canada to implement such a policy.
Mr. Budin commented that The New Market in Ontario is an exciting development for the province's gambling industry. According to him, jurisdictions from all around the globe are looking to implement regulatory frameworks that support legal gambling, thus providing a safe gaming environment, creating jobs, and keeping revenue to the local economy. He stated that the company is fully behind such plans, and it is exploring opportunities to join such markets.
Beginning with a Bang
Ontario's market premiered on April 4, 2022, with roughly 14 operators who began offering their services on the first day. Many well-known companies have already entered the market, including FanDuel, which launched as soon as it was available. FanDuel's Sportsbook app, which has an integrated casino, as well as its separate Casino app, are now available for download.
Source: YahooSports, April 12, 2022, "Kings Entertainment Shares March Operational Highlights."